Education is the key to success. Yes! that's right. Online there are thousands of online training courses and you've probably already followed tons of them, so, I'm sure you'll wonder why you should try that too!
The answer's simple if you are here, you are looking for the last training that it will make you a BIG step forward in this business.
Well, you are in the right place and this is the training for you.  
So Let's start with the Super Affiliate System 2.0 summary sheet
Name: Super Affiliate System
Website:  www.imjetset.com
Price:  $997  Promo offer Discount
Owners: John Crestani
Overall Rank: 98 out of 100
 
The Super Affiliate System  Product Overview

Even if the course is called Super Affiliate System, it does not mean that it is a system where you press a button and make money in spades. Believe me, these systems do not exist.
The course is structured on 6 weeks and every week you have to work to get results and also a  budget to test your ads campaign even if they provide ready to launch campaigns on these niches :  
Business Opportunity

Probiotics

SkinCare

Diabetes

Fitness 

Weight Loss

Self Improvement
In the member area, also are available for download, prospectus templates based on gender, age, interests, etc., which allow you to identify a group of probable buyers in any niche covered by the training. This information is very useful for running a FB right advertising campaign and finding buyers as close as possible.
Now let's see how the course is structured, we said that it takes place in 6 Modules in 6 weeks:
The First  Module / Week is dedicated to system setup and is dedicated to the following activities:
Define your goals;

Set up your website;

Study and learn all about pre-sales and creation of pre-sales pages

How to set up your FB ads account correctly

Know the best affiliate networks
The Second Module / Week : it's dedicated to the knowledge of the System and to build your trust on it because:" people fail, not systems)
In that case, the user is focused on these topics:
Creating a Successful Mindset 

Become a Super Affiliate on Niche Research

Where To Find Niche Data and how to create a connection with the niche that means how to speak your niche language

Networking in the industry

User intent and its role in advertising
The Third Module / Week : This week is dedicated to improving your marketing skills and John share with you all do you need to succeed :
Copywriting Killer Foundations

[GUEST] Ronnie Sandlin, 7-figure copywriter

John's 17-step copywriting formula that works!

Optimizing ads for a bigger ROI and payday

Key factors of optimizing ads
The Four Module / Week : this module is dedicated to deeply know everything about Google and Facebook ads the highest traffic generators and the module is focused on :
Facebook Ads + Case Study

Facebook Ads Compliance

Metrics To Look at In Online Marketing

Google Ads 1

Google Ads 2

Case studies of Facebook & Google ads

[GUEST] Brian Pfeiffer on FB Ads – Anatomy of a $100k per month FB Ad
The Five Module /Week : This module instead is focused on Native ads and Youtube ads The amount of buyers you can reach with these networks is amazing. 
But everything must be done properly to get the result we do expect then the module is focused on :
Setting up MGID Native Ads The Right Way!

Outbrain Native Advertising

Voluum DSP Native Ads

YouTube Ads And Setting Them Up For Maximum ROI
The Last Module the Six Module /Week at the end : 
On this module, if you have followed the course in all his aspects you are able and ready to run a profitable campaign and start earning. But If your target is to get 6/7 figures on a monthly basis you need to scale up the campaigns and automate the process so you need to complete the course having the knowledge to do that properly. 
Then this module covers this aspects :
Using Survey Funnels

$240,000 Case Study – Solar Niche

Scaling a Campaign from $1k – $20k

Utilizing Media Buyers

Student Loan Case Study
At the end to complete the preparation along with the 6-week course you are also getting weekly live training, where John is keeping you up to date on the latest industry news and goes over working campaigns.
Finally analyzed in depth what the course offers, I can honestly say that if you want to focus your knowledge on FB, Google, Native and YouTube campaigns you will have certainly spent your money well. 
Last update 
The course has been recently updated and becoming a 12-Week Course. You will get access to an additional 120+ hours of video content where John explain deeply how he has used ads on Facebook, Google, Youtube, and native ad networks (online newspapers) to accelerate his online business growth.
This is the complete course of everything you need to know to effectively do paid ads as an affiliate marketer.
This upgrade has changed a little bit the structure of the course optimizing the topics and this is a new topic weekly list 
Week 1, Basic Affiliate Marketing Knowledge
Basics of affiliate marketing & paid advertising

-On this section, he explaining the concepts of affiliate marketing, and paid advertising, as clearly as possible. There are many systems involved in being a paid ads affiliate, so a simple top-down look at things is important to learn your place in the ecosystem.

The right blogs, forums, people, and materials to surround yourself with

– Surrounding yourself with the right influences is very hard in today's world. To get the right information for being a super-affiliate marketer, on this section John goes over all of the sources he used and continue to use.

Why Promote Nutraceuticals?

– An outsized proportion of his affiliate marketing revenues/profits came from promoting nutraceutical offers (weight loss, skincare, muscle, ED, etc niches), so he discusses and makes a case for why this is such an amazing niche for affiliate marketers to promote.
Week 2, The Correct Setup
The Best Affiliate Setup: Tools, software, etc

– How to utilize intense psychological triggers within the human brain to almost 'force' people to purchase your product

The technical skills you will want to start learning

​- Part of being an affiliate marketer using paid advertising is that you end up working with a lot more systems generally. Knowing WHAT skills you need to learn is incredibly important. He spent years his life learning various skills, but he makes it a lot easier by outlining exactly where you should put your focus

Understanding user intent

– His specialty is paid advertising, and within paid advertising, his big advantage is understanding the user intent, and how to target users that are just about ready to buy. He explains everything in this particular video lesson.
Week 3, More About Tools & Lander Setup
How to setup your domain/hosting/clicktracking/postback pixels

– This is the most core part of any affiliates' technical setup. Your clicktracker will become your main point of contact and analysis for all of the ad campaigns you are running, and postback pixels are the basis of all tracking for affiliates using paid advertising. He goes over thesis topics in-depth so that you can implement the setup that makes all the magic possible.

Getting Voluum working with the Clickbank affiliate network

– Clickbank is a particularly important affiliate network, with a slightly different setup than others'. Jetset is hosted on Clickbank too, and so John goes over exactly how to setup postback tracking for Clickbank offers, so you can even advertise Jetset if you wish.

How to work with your affiliate manager effectively

– Affiliate managers are one of the most under-utilized sources of information for affiliate marketers. Most affiliates don't know how to properly work with them, but he shows how he has been able to use them to make a lot more money and gain big advantages.
Week 4, Advanced Copywriting Methods 
A Simple, Works-Everytime 17 Step Story Format

​- That not only gets people to buy your product but will have them sharing your story with their friends. he uses this format to write his ads, my landing pages, and entire marketing campaigns. This format is actually the story 'template' that has been ingrained in people's minds since mythological times, and it is the story format used in the Bible, the Bhagavad Gita, and the Koran.

How to write advertorials

– Advertorials are one of the most trusted formats for advertising in existence. No matter WHAT is being sold, advertorials do the best job of marketing the product in every single instance I have found.

How to identify pain points, and major problems your customers have

-Pain points are the currency of a good marketing campaign, and know how to correctly.
Week 5, Advanced Research Tactics
My super simple research process that almost eliminates chance of failure

​- It's no secret that he bases his advertising off of tried-and-tested 'controls' that have already been proven by other marketers to work. He shows you the entire process, step-by-step so that you can apply the same techniques in your marketing.

How to find, and rip landing pages

– Pre-sell, or landing pages are one of the most important parts of a marketers arsenal. Your landing page is your digital salesperson, that turns a mere browser of the internet, into a paying customer — and profits in your bank account. He shows how to find the right landing pages, and how to rip them, so you can use them as a 'control' in your own advertising.

How to properly research, and destroy a competitor

– John is absolutely RUTHLESS when it comes to copying marketing campaigns. Unbelievably ruthless. If I want to enter a new market niche, he dissects EVERY SINGLE PIECE of a competitors marketing, and I never fail to become profitable. I walk you through my process.
Week 6, Optimization Tactics for Advertising 
How to identify click fraud, click loss, etc

– Fraudulent impressions and clicks are probably the biggest problems in all of online advertising. In this section, you will be learning how to proactively remove placements/widgets/etc that are producing large amounts of fraudulent activity.

How to split-test & optimize ads correctly

– Split-testing is an art, not a science. Knowing how to most effectively test headlines, body copy, formats, colors, devices, and calls-to-action effectively is one of the most wonderful skills to learn, as it will make your trial-and-error process for finding a winning ad immensely shorter.

How to increase profit margins on campaigns

– I show you all the different levers you can use in your advertising to adjust your profit margins at will. Once you've figured out advertising that works using my foolproof methods of research and swiping, you'll now be able to determine your profit margins simply and easily.
Week 7, Mindset Expansion
Why people fail in affiliate marketing

​- Its a fact; many people will fail at affiliate marketing. Being aware of the reasons people fail in advance will help you prevent them from happening to you, and ultimately increase your chances of success. Many educational programs do not want to touch on this touchy subject, but success is hard to achieve, and I want to give you the best chance possible.

Maintaining focus and productivity working from home

– Many of the problems of being an entrepreneur begin and end with your attention span. Lack of focus is the #1 killer of many entrepreneurs' businesses, and knowing ways that you can prevent the same 'opportunity hopping' to occur to you will help your success.
Week 8, Networking & Coding
How to leverages others' success to fuel your own

​- Masterminds, JVs, and affiliate accountability teams will help you become successful MUCH faster. Humans are social creatures, and extremely motivated by competitive instincts. When you start surrounding yourself with a competitive peer group that motivates you, success is a natural byproduct.

How to get a facebook representative 

– John's friend and super-affiliate Tim Burd reveals his 'social hack' to getting a facebook representative to help him get preferential treatment on his advertising campaigns on the facebook platform

The 3 programming languages you need to learn

– On these step-by-step tutorials, anyone can easily learn three programming languages in 3 days. With the advent of WYSIWIG website editors such as

Clickfunnel

, knowing programming isn't very important, however spending time going through these tutorials will put you light years ahead of the competition.
Week 9, Google Adwords 
How to target, remarket, copyright, and optimize on adwords

​- John spends 6-figures per MONTH on Adwords and have been for years. I understand the platform perhaps better than anyone on the world and have used it extensively for advertising products for years. He teaches you everything I know about the platform, in an extremely detailed manner. Enjoy.

Affiliate campaign examples

​- You'll get a few over-the-shoulder examples of John works on campaigns for investment, weight loss, and domain hosting niches. Again, if you are an aspiring marketer of any sort, these are the best videos on Adwords that are available anywhere. 
Week 10, Facebook Ads
How to structure your campaigns on facebook

– Master facebook marketer Tim Burd shows exactly how to structure facebook campaigns for the maximum amount of success. Tried, tested, and true.

Advanced Custom Audience Monetization Strategies

– Custom audiences are the most powerful targeting method that has ever been invented or used in the entire history of the world. Facebook's artificial intelligence and algorithm for determining exactly who will purchase a particular product has revolutionized marketing, and they detail exactly how to make the most use of it.

Facebook ads case study in the woodworking niche

– He choses a weird, small niche to get a profitable ads campaign running on, just to demonstrate the power of my facebook advertising methodologies. Watch over my shoulder as he builds this campaign from scratch and gets it profitable.

How to stay compliant on facebook with affiliate ads

​- A lot of affiliate marketers have problems with facebook, because they claim that facebook doesn't like affiliate marketers, and that facebook shuts down their accounts. John and Tim Burd go over the reasons why this is not a problem for us, and how you too can avoid these sorts of problems.
Week 11, Native Advertising 
What is native advertising?

​- He explains exactly what native advertising is, why it's such a large yet unknown source of advertising, and how to effectively use it.

The Most Expensive Mistake Most Native Ads Affiliates Make

– He goes over all of the major mistakes that affiliates make who try to use native advertising as a traffic source.

My 3-tiered bidding strategy for native ads

– This strategy makes ad it super simple for you to figure out how to properly break apart campaigns, and how to structure things for the lowest cost bids and conversions
Week 12, Scaling Your Media Buying Business 
How to scale affiliate campaigns

– Once a campaign is profitable, the most important thing to do is scale the campaign from $100 profit per day, to $10,000+ profit per day. Sometimes this is not as simple as simple raising your campaign budget, and he discuss the different forms of scaling, both horizontal, and vertical, and when to use them.

Outsourcing as an affiliate marketer

– As many affiliates' profits grow, so do their needs for design, development, optimization, and administrative work in their companies. He discuss the best methods for outsourcing from my own experience of running teams.

Working with designers/developers

– Web designers and web developers have a distinct and particular language they use to communicate. If you do not know how to properly talk to them, use their words and language, you can end up wasting a lot of money. Don't waste money, and watch these videos.

Hiring/managing media buyers

– As your company grows further, you may want to bring on junior ad buyers to manage your own advertising campaigns, or launch affiliate advertising campaigns for you. I detail this process from my own experience of running a 500k per month media buying team.
This upgrade is completely optional, but it is the best value you will find anywhere on the internet if you want to learn the skill of paid advertising. This is not a short course by any means, and it does require an additional investment in both software (~$150 /month) AND advertising ($1000-$2000) if you are to truly gain all the benefits of the material presented.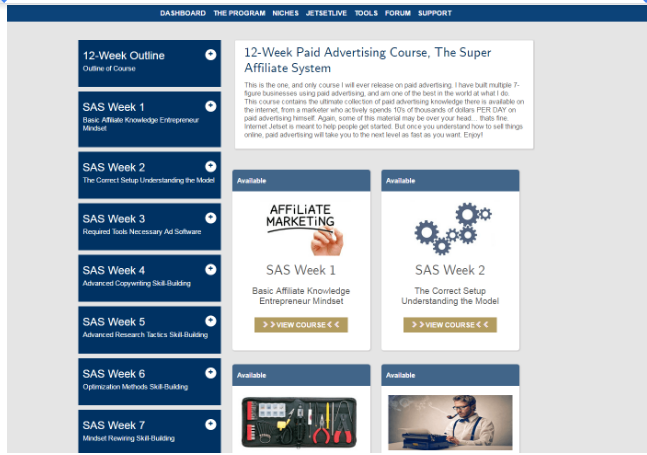 Customized website navigation through all 12 of the courses weeks of material.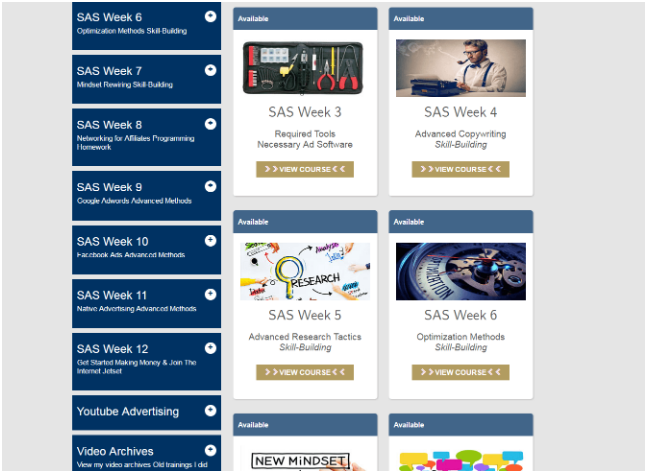 Easily organized course structure to learning the skills, then the ad networks to use.
The Good & the Bad

PRO –
The course structure is simple and focused on the process to be followed. Every week a case study is analyzed in all its aspects, this makes it easy to learn the method and its immediate execution

Extremely user friendly 

At the end of the 8 weeks you will be able to manage Google, FB and Yost PPC and Native ads campaigns as an expert

copywriting is another aspect that is not overlooked indeed it is the subject of study you will learn to master a niche in no time even if you do not know it

It is a software requirement by the most important marketing training because they use and share their Clickfunnels funnel with their students.
 CON – 
ClickFunnels is a software requirement because it shares all funnels built for case studies, it could be a limitation if you have another software.

My advice is to adopt ClickFunnels as the main Funnel builder software because it is the most popular among the best marketers

The course is focused mainly on paid traffic but teaches you how to maximize Google, Yost and   Bing ads offers and discounts.

If you don't already have the Funnel Builder, the Autoresponder and Tracking software remember to add the monthly extra-cost of these software and paid ads 
Who is Super Affiliate System For?
If you don't want to struggle anymore and want to invest in yourself and your business Super affiliate System it's right for you. This is not a system where you push the button and become the richest of the world, they do not exist but rather I think it's more than a System, it is a Model to follow to succeed in this business.
From this course in recent years have had the same success as John at least 6 or 7 other students.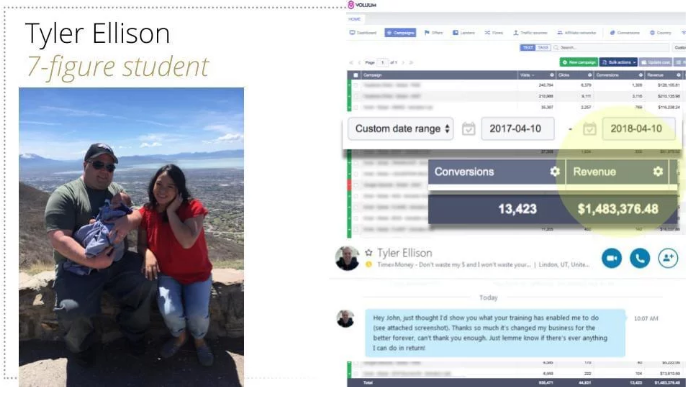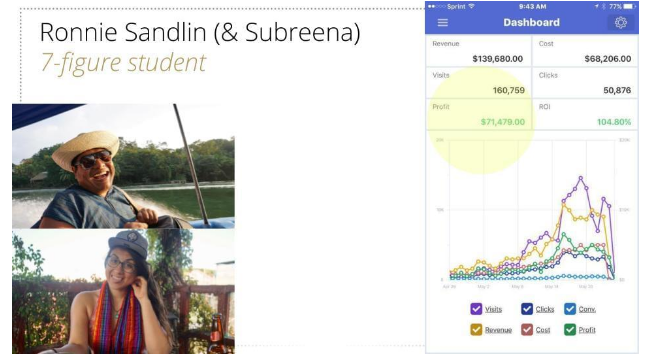 Look at some students testimonials 
Ahsan Habib – $8,400+ Per Month
Carlos Valiente – $100,000+ Per Year!   
Super Affiliate System  Support

At the end to complete the preparation along with the 12-week course you are also getting weekly live training, where John is keeping you up to date on the latest industry news and goes over working campaigns.
Super Affiliate System Bonuses
In addition to all this, John makes available to his students a series of incredible bonuses to ensure their success.
Bonus #1, Ten Recorded Coaching Sessions
John did quite over ten live recorded coaching sessions with SuperAffiliateSystem students after he originally launched the course. You will get access to all ten of these recorded sessions (runtime, over 10 hours), which address every question that ever came up within the course.

In these recorded sessions, you will also get a sneak peak at even more of the affiliate advertising campaigns he was running, as well as the ad campaigns of a number of my students.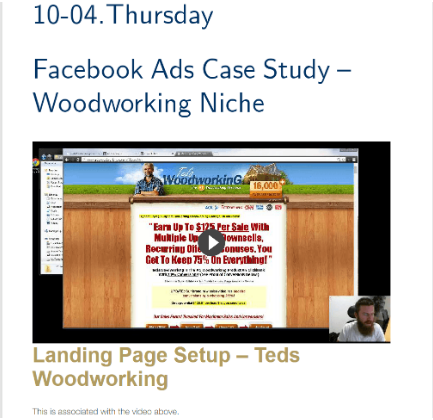 The daily course content looks like this. Many case studies are featured throughout.
Bonus #2, Custom Audience Buyers Lists
These are lists you can use to generate custom audiences and (more importantly) look alike audiences on ad networks such as Google, Youtube, Facebook, Gemini, and other ad networks that accept them. Custom audiences are part of John magic formula for Facebook advertising, and they WORK. He says:" No matter what I do, I use custom audiences, and build a 1%, 5%, and 10% lookalike audience around them for my targeting". 
It takes one big variable out the equation, which is on every single affiliates mind: "Am I targeting the right audience?" Not having to worry about that question, has made my life loads easier, and allowed me to focus on the most important aspect of marketing: the ad.

You will receive custom audiences for the following niches: Skincare buyers US, skincare buyers CA, Skincare buyers UK, Skincare buyers AU, Gamblers US, Blood pressure medication buyers US, Diet US, Diet CA, Diet AU/NZ, Brain enhancement US, Sleep aids US, Haircare US.
rebuilt lists of buyers' so that you can build custom and lookalike audiences in facebook.
Bonus #3, Blacklists for many major ad nets
When you become a massive, advanced media buyer, you'll know that all the value in the world is in your lists. Blacklists are particularly important. Online advertising if fraught with massive amounts of fraud… it is one of the biggest problems for marketers who want to advertise online.

Fortunately enough, I have spent millions upon millions of dollars in advertising, and am extremely organized in my documentation of which sites don't work, and which sites are just plain fraud. You will get access to the same exclusion lists I use for ad networks such as RevContent, Content.ad, NativeAds.com, MyLikes, and Advertise.com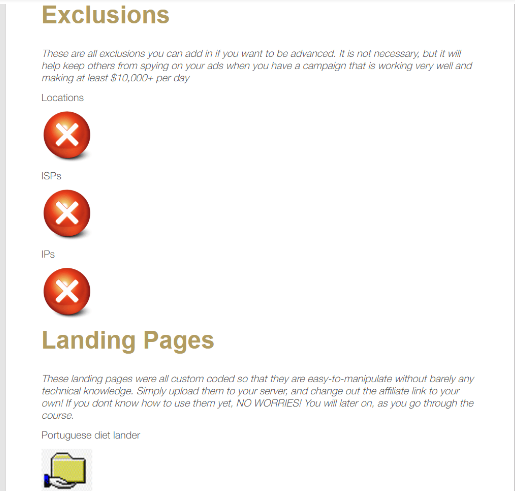 Exclusion lists, so you can exclude locations, ISPs, or IP addresses if necessary and the available Landing Pages
Bonus #4, Whitelists for many major ad nets
Just as it is important to have blacklists of fraudulent sites that need to be excluded from spending your advertising dollars on, it is also important to have whitelists of sites that have particularly high-quality traffic to test your newest ad campaigns on.

I always use my whitelists to test me newest ads on, and with access to these extremely valuable files, you will be able to do the same. You will get access to whitelists for the following ad networks: RevContent, Content.ad, NativeAds.com, MyLikes.com, Advertise.com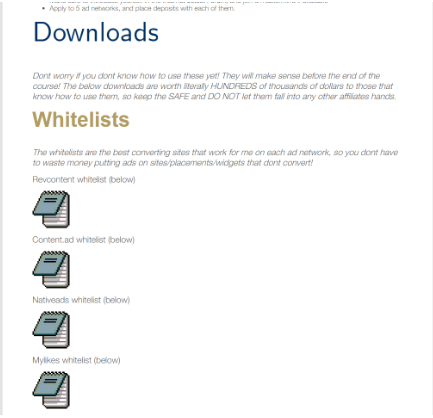 The course features downloads of whitelists and blacklists for your native ad efforts
Bonus #5, Downloadable landing pages
As I have stated throughout, landing pages are the pivotal piece of any ad campaign; they are the digital salespeople that get people excited to buy your product.

Contained within the vault of the SuperAffiliateSystem, you will find dozens of landing pages in all different verticals, for you to use as controls in your own ad campaigns. There are landers in the following niches: weight loss, skincare, flashlight, solar power, eyelash lengthener, casino, and beard oil.
Bonus #6, My Swipe File of Ads
Every marketer keeps a swipe file… it is one of their most closely guarded treasures. This is because a marketers swipe file is filled with all of the special ads that he uses to base the rest of his ads off of. Every marketing campaign begins with a 'control', or an ad that has already been proven to work. The best marketers aren't original… in fact, they are INCREDIBLY unoriginal! Everything is based on ads in their swipe file.

With your purchase of the SuperAffiliateSystem, you get access to my personal swipe file of HUNDREDS of ads that I have saved over the years, so you can begin every marketing campaign the same way I do.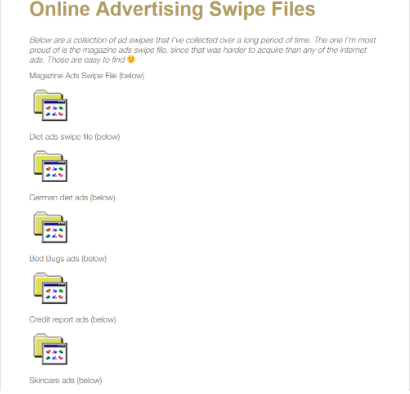 You get access to my personal advertising swipe files to download in the copywriting section.
Super Affiliate System at a Glance…
The Super Affiliate System is a complete affiliate marketing training system that shows people how to create massively profitable affiliate campaigns.
 AD:

 show people how to not only create engaging ads that work AND give them working ads they can copy/paste, but we give-away over $895 of FREE AD CREDITS to those who signup, so they can get started with ZERO RISK.

​PRESELL

: give-away working both downloadable presell page templates, but we also have Click-and-Clone Clickfunnels templates that make it easy for first-time affiliates to get started with NO PROGRAMMING KNOWLEDGE NECESSARY.

 OFFERS:

 guide students to the highest converting offers, the best affiliate networks, and give students access to high-ticket affiliate offers that produce recurring revenues.
The core SKILLS we focus on are the following:
Copywriting
Data Analysis
Research
These skills form the backbone of all our teachings on how to effectively market products online. Students not only come out of this training with proven tactics and methods to making money online, but also will have developed core skills that will help them no matter where they ultimately end up in life.
SAS also focus highly on mindset exercises with their students, by exposing them to visualization exercises, mindset exercises, goal-setting exercises, assistance to reduce 'Shiny Object Syndrome', and more.
SAS maintains exceptionally strong engagement with their students throughout the course of the 12-week training, by regularly sending them messages through email, text, voicemail, and push-notifications.
This is 'sales for the 21st century', and we truly are committed to their students' success, and engage with them every chance we get.
Then if you want to find out more information about the system I suggest you follow John's free webinar.
Also, in this case, All the Funnels provided by the course have been built using ClickFunnels so if you want to use them is highly recommended an account, then if you want to join the course and don't already have the account you might use this link to get your free trial.


Name: Super Affiliate System
Website:  www.imjetset.com
Price:  $997  Promo offer Discount
Owners: John Crestani
Overall Rank: 98 out of 100

VERDICT: LEGIT 

/* Permalink - use to edit and share this gradient: https://colorzilla.com/gradient-editor/#959595+0,0d0d0d+46,010101+50,0a0a0a+53,4e4e4e+76,383838+87,1b1b1b+100;Black+Gloss+Pipe */ background: #959595; /* Old browsers */ background: -moz-linear-gradient(top, #959595 0%, #0d0d0d 46%, #010101 50%, #0a0a0a 53%, #4e4e4e 76%, #383838 87%, #1b1b1b 100%); /* FF3.6-15 */ background: -webkit-linear-gradient(top, #959595 0%,#0d0d0d 46%,#010101 50%,#0a0a0a 53%,#4e4e4e 76%,#383838 87%,#1b1b1b 100%); /* Chrome10-25,Safari5.1-6 */ background: linear-gradient(to bottom, #959595 0%,#0d0d0d 46%,#010101 50%,#0a0a0a 53%,#4e4e4e 76%,#383838 87%,#1b1b1b 100%); /* W3C, IE10+, FF16+, Chrome26+, Opera12+, Safari7+ */ filter: progid:DXImageTransform.Microsoft.gradient( startColorstr='#959595', endColorstr='#1b1b1b',GradientType=0 ); /* IE6-9 */
TURBINANCE - Your Banners on 377 Sites For FREE! Click HERE