Did you read the quote on the thumbnail? It's incredible how the CBU is the place where you can apply what this quote suggests. Only on this site, there is this huge number of successful people than teach you how to become successful following their suggestions.
Now let's take a look at the summary sheet
Product Name: Clickbank University
Product Owners: Matt Hulett, Adam Horwitz, Justin Atlan
Advertised Price: $47 per month
Upsells: $594
Rating: 90/100
Clickbank University 2.0 Product Overview
As you can see, the course navigation bar is full of very interesting topics except for the Welcome, Getting Started sections and the Interviews, I would like to focus more on the others:
The Affiliates Program it's a  8 weeks

training (included in the membership), is for training affiliates to sell other people's products online.  

The Vendors Program it's a 12 weeks

training about publishing your own info products. That means you would create an ebook or video training series, then market it online. 
The Traffic section –

focused mainly on Facebook and Instagram two of the largest aggregators of potential customers.
The Toolkit section – Inside, you'll find all the tech providers, essential services and special deals you need to get up and running simple, quick and easy – all with "how-to" pdf, checklists, videos and starter guides. You'll save huge amounts of time and money learning all the shortcuts and tricks to getting things done effectively (and often for free!)

I think that's really awesome!!!  You are inside one of the most important affiliate networks and you are able to access some crucial information, such as the best niche with the highest selling trend or access to the webinar best seller Clickbank and many other resources. The best sellers in their webinars share their experiences by providing guidance that you can apply to your business and replicate their success, and this is an incredible opportunity.
With these 2 courses, you are able to follow all the selling product process, from the idea to the creation of a network of affiliate selling your product.
The strategy they teach you is that you have to create first,  an amazing product that's going to get sales, get positive reviews & make other affiliates want to promote your product. Then you also need to create not just 1 product but other high-quality products that you can promote as upsells. In a few words, this course is based on the principles and philosophy of the CLICKBANK Affiliate Network following his success model.  
Now take a look at the Vendor course calendar :
Week 1 – How everything works  + Set up for success

Here you'll learn the overall goal of our 12-week plan to success.

Week 2 – Finding Your Perfect Product 

Blend your passion and experience with what's profitable on ClickBank and will you get the exact insight needed to find your perfect product.

Week 3 – Creating Your Avatar 

our avatar is your customer, and in order to give your customer exactly what he or she needs, you have to understand their mind-set. It's time to set into your customer's shoes!

What are their interests? What are the demographics? But most importantly, what is their problem and how is your product going to solve it? If you know their problem, then you can create a product that solves the problem.

Week 4 – Course Content Creations & Outsourcing

Know exactly how to format your product, for instance, as videos or an




e-book. Know the proven blueprint that successes products on




ClickBank use. They even teach you how to outsource your product




creation so you don't even have to write it!

Week 5 – Creating your Perfect Upsell

Maximize the value of each and every customer by offering upsells. These upsell add more value to your customers by further helping the customer solve their problem.

This is very important for attracting affiliates. The more money they can make per sales, the more they will love promoting your product!

Week 6 – Sales Copy & Conversion Maximizing

Learn the secrets of successful sales copy from our very own expert copywriter.

Remember, you might have the greatest product in the world, but if you don't have a great sales pitch then you won't be successful.

Week 7 – The Easy Video Sales Letter

Learn the secrets of creating a high value and effective video sales letters used by the experts. Don't spend thousands of dollars on video production.

Week 8 – Finalizing your Product

Let's put the finishing touches on your product. Correcting any errors and making sure all of the elements of your product are sound.

Week 9 – Getting onto ClickBank 

Learn how to get your Product onto the ClickBank Marketplace! They walk you through step by step.

Week 10 – Attracting & Managing JV Relationships

Attracting affiliates is one of the easiest way you can become successful on ClickBank, but you've got to know what they want first.

Learn how get them to believe in your product!

Week 11 – Split Testing

Learn how simply testing different language, ads, and funnels can dramatically increase conversions.

Week 12 – Scaling your Success

Learn how to build upon initial sales and success by generating more and more traffic to create massive success.

Bonus: Selling High Ticket Products on Webinars ($1k Plus per sale)s 
Now I will break down the  affiliate course calendar too :
Week 1 – Affiliate Marketing on ClickBank

Affiliate Profit Plan

Setting Up for Success

Goal Setting

Week 2 – Understanding Affiliate Marketing

Affiliate Basics

Navigating Through the ClickBank Marketplace

Secrets of the Top ClickBank Products

Week 3 – Finding Your Passion

Discovering Your Passion

Researching in Your Niche

Picking the Perfect Product

Week 4 – The Ultimate Affiliate Funnel

The Truth About Traffic

Affiliate Funnel 101

Building Squeeze Pages

Week 5 – Free, Free, Free: Always Over Deliver

Building a Relationship with Your List

Different Ways to Deliver Free Content

Outsourcing Your Content

Week 6 – Writing the Perfect Swipe

Getting them to Open the Email

Making Sure They Click

Offering Bonuses

Week 7 – The Email Blueprint

Using Broadcasts

Automating Your Emails

The Perfect Balance

Week 8 – Scaling and Expanding

Toolkit Traffic Area

Opening the Flood Gates

Creating a Product

Bonus: Running Affiliate Promotions
How you can see you are gonna treat this topic very deeply, and with great teachers. 
The Traffic section – With the traffic center, you'll discover how to generate almost unlimited traffic and clicks, practically on demand. Inside ClickBank University 2.0, you get brand new modules that deliver all the latest traffic training in easy to follow video tutorials. You'll know exactly where to go and what to do to unleash a 'flash flood' of traffic to your own offers (or to someone else's) whenever you want. This is an absolute must for success whether you choose the affiliate or publisher route and worth the price alone.
They teach you how to achieve super targeted traffic using Facebook and retargeting prospects, and also using Instagram influencers. These two types of traffic are very effective and can help you to grow your sales in a few days with not much money to invest.
On the last update, the traffic section has been integrated with an additional course about Youtube and how to get traffic from it even if you don't want to be on video. that's AWESOME!!
The Toolkit section – Inside, you'll find all the tech providers, essential services and special deals you need to get up and running simple, quick and easy – all with "how-to" pdf, checklists, videos and starter guides. You'll save huge amounts of time and money learning all the shortcuts and tricks to getting things done effectively (and often for free!)

The Good & the Bad

PRO – 
You are able to understand every aspect of the digital product selling process from the idea to the affiliate networkers 

There are a lot of valuable resources can help you during the training,

Forum & Webinar are available for members to provide personal support

To not be overwhelmed by the information. On every session and to be not confused when you ended a session you have to mark it by a button.

The membership dashboard is user-friendly and it's so easy to use
CON – 
The Affiliate Marketing training it could be better I think 8 weeks are not enough to cover this topic in all his aspects 

Sometimes the webinars are too much focused on the CBU or ClickBank in general, then the main topic of the course. 

Who is ClickBank University For?
Personally, I think this course is suitable for those who already have experience and want to create their own product. The course for Sellers is complete and well structured and here you see all the experience of the network.
Also, the affiliate training is really awesome, because even if you are a Vendor or an affiliate, CBU advantage respect the other courses is that  ClickBank University 2.0 delivers the latest up to date strategies, methods and tactics for you build your ClickBank business rapidly. Because they are inside the business they know the different Markets and Niches, then knows which are the process that works and you need to implement on your business to be successful, they have the experience of their top sellers, they have thousands of successful case studies.
Click Bank University at a Glance…
As I said earlier, I can say that if I were to give a definition of the CBU it is a highly professional product if you intend to create your own product, create your network of affiliates and sell it through ClickBank, you are in good hands because I am able to provide you with a winning sales model, proven by the success of its best top sellers. But also if you are totally beginner with no experience this is the solution for you to make your first sale online and start a real business because they provide the knowledge to build an online business from the experience of their success vendors.
ClickBank University Support 
In addition to the 2 trainings, you will have access to CBU Live Q&A or the CBU Forum useful and powerful to answer your questions.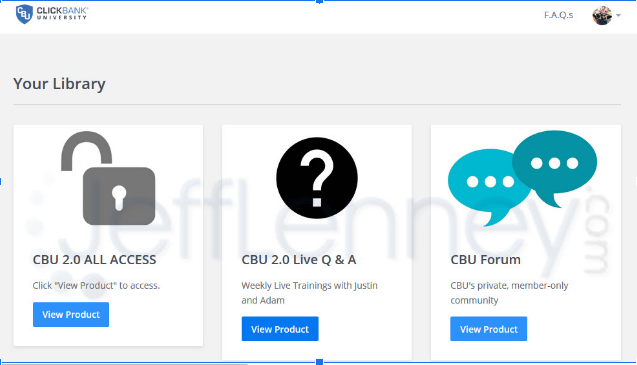 Product Name: Clickbank University
Product Owners: Matt Hulett, Adam Horwitz, Justin Atlan
Upsells: $594
Rating: 90/100


VERDICT: LEGIT 

/* Permalink - use to edit and share this gradient: https://colorzilla.com/gradient-editor/#959595+0,0d0d0d+46,010101+50,0a0a0a+53,4e4e4e+76,383838+87,1b1b1b+100;Black+Gloss+Pipe */ background: #959595; /* Old browsers */ background: -moz-linear-gradient(top, #959595 0%, #0d0d0d 46%, #010101 50%, #0a0a0a 53%, #4e4e4e 76%, #383838 87%, #1b1b1b 100%); /* FF3.6-15 */ background: -webkit-linear-gradient(top, #959595 0%,#0d0d0d 46%,#010101 50%,#0a0a0a 53%,#4e4e4e 76%,#383838 87%,#1b1b1b 100%); /* Chrome10-25,Safari5.1-6 */ background: linear-gradient(to bottom, #959595 0%,#0d0d0d 46%,#010101 50%,#0a0a0a 53%,#4e4e4e 76%,#383838 87%,#1b1b1b 100%); /* W3C, IE10+, FF16+, Chrome26+, Opera12+, Safari7+ */ filter: progid:DXImageTransform.Microsoft.gradient( startColorstr='#959595', endColorstr='#1b1b1b',GradientType=0 ); /* IE6-9 */
TURBINANCE - Your Banners on 377 Sites For FREE! Click HERE